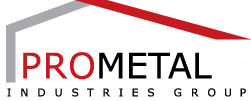 LOCATION
ADDRESS
+ 961 1 887753
+ 971 4 4471561
PROMETAL INDUSTRIES GROUP


2013
Steel is our Business
Steel fabrication and prefabricated houses are what we do

April 2013:
Polyurethane Spray Insulation



Prometal has introduced a new Mobile Thermal Insulation Line to the list of products and services it offers. The product material is sprayed to the surface requiring to be thermally insulated: wall, cavity filling, roof, ceiling, floor, brick tiled canopies, K-span steel buildings,… The material adhere to all surfaces and fills cracks and hides deformations at the same time. Polyurethane Spray Insulation is the fastest and most economical way to apply the thermal insulation required and therefore to reduce energy consumption.

May 2013:
Wood Houses and Cabines



Being so beautiful and eye catching, the demand on Wood Houses is highly increasing. Prometal has created a special department "Prometal Nature" just to focuse on this line. Like for regular prefab houses, a large variety of sizes, designs, shapes, options, colors,… are offered.

jily 2013:
K-span Constructions



Prometal has recently introduced K-Span construction line to Lebanon and Dubai markets. With spans exceeding 20m, the structure installation is quick and extremely faster than regularly constructed buildings. These buildings can be insulated with the Polyurethane Spray Insulation system that we can also offer. After insulation they can be heated or cooled depending on the required end usage.

August 2012:
Prefabricated Site Offices for Underground Car park project in Abu Dhabi / U.A.E.



COREMETAL has been awarded the fabrication and installation of the Prefabricated Site offices for M.A.N. Enterprises (Offshore) / Abu Dhabi. The project is composed in modular prefabricated units for a total area of 570 m2, in 2 storey levels, including access staircases and catwalk. The portacabins are fire rated to suit the new imposed regulations and specifications of Abu Dhabi Civil Defense security department.



July 2012:
Dukhan Concrete and Asphalt Plant – Qatar


COREMETAL has been awarded the fabrication and supply of cement silos, water tanks and Bitumen tanks for QD/CPC – Qatar for their new Concrete and Asphalt plant in Dukhan / Qatar.
The project includes: 100T and 180T capacity Cement silos, 110 m3 capacity cylindrical water tanks and 50.000L capacity Bitumen tanks.






July 2012 :
State of Qatar Embassy – Abu Dhabi / U.A.E.
Under the supervision of the main contractor M.A.N. Enterprises (Offshore) – Abu Dhabi, COREMETAL will handle the fabrication and installation of all steel and stainless works for the State of Qatar Embassy in Abu Dhabi.

The project includes:

1) Steel structural trusses to support the roof slab of the building
2) Steel and stainless decorative handrails and balustrades
3) Stainless steel access hatches and ladders for the water tanks
4) Heavy Duty steel louver doors for the substation and pump rooms.
UAE
Jumerah Lake Towers.
P.O.Box: 299721,Dubai.

Factory : Sajaa Industrial Area- Sharjah.
Tel: +971 4 447 1561
Fax: +971 4 447 1563