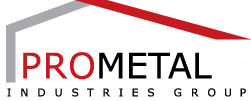 PROMETAL INDUSTRIES GROUP


2013
Steel is our Business
Steel fabrication and prefabricated houses are what we do


Prefabricated Site Offices for Underground Car park project in Abu Dhabi / U.A.E.

COREMETAL has been awarded the fabrication and installation of the Prefabricated Site offices for M.A.N. Enterprises (Offshore) / Abu Dhabi.
readmore
August
2012
Dukhan Concrete and Asphalt Plant – Qatar

COREMETAL has been awarded the fabrication and supply of cement silos, water tanks and Bitumen tanks for QD/CPC – Qatar for their new

readmore
July
2012
State of Qatar Embassy – Abu Dhabi / U.A.E.

Under the supervision of the main contractor M.A.N. Enterprises (Offshore) – Abu Dhabi, COREMETAL will handle the fabrication and...

readmore
July
22

PROMETAL INDUSTRIES GROUP of Companies provides a full range of engineering and construction services and solutions. Our team of technical experts, specialized project management teams, skilled man power and state-of-the-art technology ensures timely and successful completion of projects.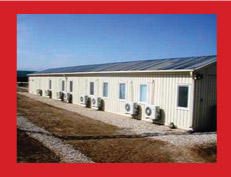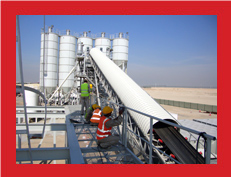 UAE
Jumerah Lake Towers.
P.O.Box: 299721,Dubai.

Factory : Sajaa Industrial Area- Sharjah.
Tel: +971 4 447 1561
Fax: +971 4 447 1563

Usage of steel-welded structures with paneled walls and roof offers almost any desired design. Buildings can be produced to fit alongside, and blend with, existing buildings while being customized so further buildings can be added at a later date or even relocated elsewhere.
GROUP's  systems provide effective and economical wide range of material with an attractive and durable solution for roof and wall finishes matching almost all kind of buildings.
Material Selection
The selection of materials depends upon building's intended use, the environment conditions as well as the applicable specifications (Structural, static, thermal, sound proofing, fire resistance, etc..).
Main components of our  prefabricated units are steel and Polyurethane insulation which give the best advantages in terms of mechanical strength, durability, malleability, deflection weight, resistance to corrosion as well as technical and economical factors.
Thermal requirements
The heat insulation degree is determined by the requirements and demands posed by applicable building regulations, depending on the use, the individual building sections (roof, wall, floor) and the climate zone.
Polyurethane is the highest rated insulation in the world. It offers an R-value of R7 to R8 which indicates a high level of thermal insulation (heat and cold).
Furthermore, with all the problems of mold and mildew, moisture resistance is today a very important factor. Polyurethane has one of the lowest moisture Permeability ratings of any product manufactured for the building industry.
Fire protection
Regulations classifying construction materials depending of their flame-resistance properties for a specific period are of high importance. Steel sheets are classified as non-combustible materials (0 category).
Polyurethane is a UL class 1 rated foam, which means that it is not a source for fire. On its own, Polyurethane will not burn and will extinguish itself. Also polyurethane is a thermal-set plastic and therefore will not melt, and will not be affected until temperatures reach 1000 degrees.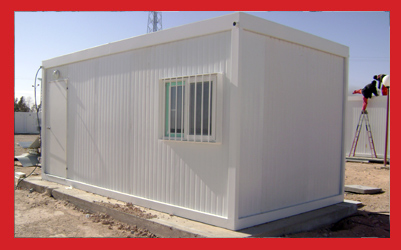 Advantages of using PROMETAL INDUSTRIES GROUP's
prefabricated units:
| | |
| --- | --- |
| | Resistance and durability |
| | Energy saving (hot and cold) |
| | Heat insulation\improvement |
| | Fireproof |
| | Lightweight |
| | Quick and Easy installation. |