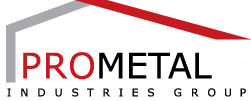 PROMETAL INDUSTRIES GROUP


2013
Steel is our Business
Steel fabrication and prefabricated houses are what we do

Al Massood Villa

Arab Bank

Cladding and paneling projects

Desalination plant

Farra Gallery

Fire Escape staircases

Military and Labor camp

Prefab Projects

QD-CPC

ICON Concrete

Stainless Steel projects


Polyurethane Spray Insulation

Prometal has introduced a new Mobile Thermal Insulation Line to the list of products and services it offers.
readmore
APRIL
2013
Wood Houses and Cabines

Being so beautiful and eye catching, the demand on Wood Houses is highly increasing. Prometal has created a special department "Prometal Nature" just to focuse on this line.

readmore
May
2013
K-span Constructions

Prometal has recently introduced K-Span construction line to Lebanon and Dubai markets. With spans exceeding 20m, the structure installation is quick and extremely faster than regularly constructed buildings.

readmore
July
2013
UAE
Jumerah Lake Towers.
P.O.Box: 299721,Dubai.

Factory : Sajaa Industrial Area- Sharjah.
Tel: +971 4 447 1561
Fax: +971 4 447 1563